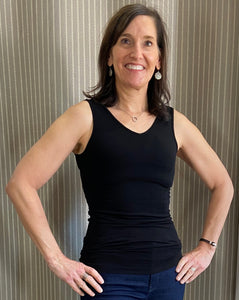 Regular:
A scoop neck on one side and a V-neck on the other! Our Reversible style tank is now available in our soft breathable bamboo fiber.
Material: 51% Bamboo | 21% Cotton | 20% Nylon | 8% Spandex
Plus:
Thick straps and a scoop on both sides makes this tank bra-friendly and it will fit sizes 16-22.
Material: 51% Bamboo Viscose | 21% Cotton | 20% Nylon | 8% Spandex