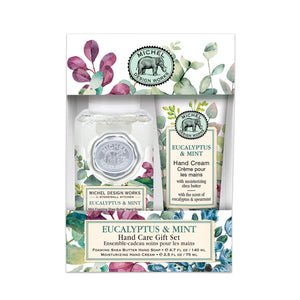 Relax with the peaceful scent of eucalyptus and spearmint. A palette of soft greens with a touch of purple brings this beautiful design to life. Our ever-popular Mini Foaming Hand Soap combined with our moisturizing Large Hand Cream create the perfect gift set. Both contain shea butter and aloe for the ultimate in hand care. A luxurious gift anyone would be thrilled to receive!
Fragrance Notes:
Eucalyptus and spearmint with drops of orange and geranium
Since 1987, Michel Design Works has been crafting premium products that today range from beautifully scented hand soaps to brightly printed napkins. A stunning blend of fashion and function, each item is decked out with colorful, intricate designs inspired by antique art from the 18th and 19th centuries. Popular as gifts and perfect for everyday use, these offerings bring a touch of attainable luxury to any home.
Mini Foaming Hand Soap Volume: 4.7 fl. oz. / 140 mL
Large Hand Cream Volume: 2.5 fl. oz. / 75 mL
Approximate Box Size: 6.2 x 4.25 x 2" / 15.8 x 10.8 x 5.1 cm