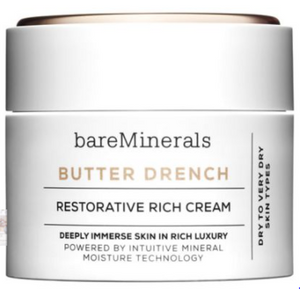 Rich Cream Moisturizer
A saving grace for dry or very dry skin, our buttery cream deeply moisturizes and nourishes skin to renew its radiance.
Immerse your skin in our rich BUTTER DRENCH™ Restorative Rich Cream powered by Intuitive Mineral Moisture Technology™. Its formula is made from a luscious blend of shea butter and ceramides to deeply hydrate and increase the retention of that hydration. Plus, a peptide blend will enhance the skin's resilience so you can maintain a radiant glow.
Ideal for dry and very dry skin. May also be used as a replenishing night cream for normal and combination skin. Richly textured, buttery cream formula flawlessly glides onto skin. Shea butter comforts and soothes dry skin. Ceramides provide skin with balance and suppleness. Peptides diminish the appearance of fine lines and wrinkles. Naturally derived fragrance with subtle notes of bergamot and eucalyptus. Dermatologist tested. Non-comedogenic. Oil-free. None of our products are tested on animals.