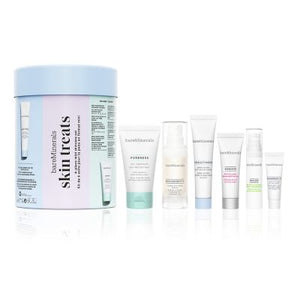 A must-have set of mini skincare favorites to mix, match, blend and layer. Use these vegan formulas to create personalized bareBlends that improve your skin's look and feel. A $78 value.
What it does:
Mini Pureness Gel Cleanser (30 mL / 1 fl oz)
• Gently removes makeup, impurities and excess oil
• Improves the appearance of sensitive skin over time
• Skin feels soothed and nourished
• Mini Ageless Phyto-AHA* Radiance Facial (10 mL / 0.34 fl oz)
• Resurfaces and smooths skin's texture
• Brightens and evens skin tone
• Reduces visible discoloration and pores, while softening the look of fine lines and wrinkles
 *Plant-based AHA alternative.
Mini SKINLONGEVITY® Long Lift Herb Serum (15 mL / 0.27 fl oz)
• Strengthens skin's barrier to better resist daily damage
• Dramatically improves key visible signs of aging
• Reduces visible fine lines, improves texture and boosts radiance
• Mini Ageless 10% Phyto-Retinol** Night Concentrate (8 mL / 0.27 fl oz)
• Works overnight to significantly reduce visible fine lines and wrinkles and even skin tone — in just 1 week
• Delivers the same age-defying benefits as traditional retinol without redness or sensitivity
 **Plant-based retinol alternative.
Mini SKINLONGEVITY® Long Live Herb Eye Treatment (5 g / 0.17 oz)
• Reduces the appearance of wrinkles and dark circles
• Clinically shown to strengthen skin's barrier
Mini SMOOTHNESS BARE HAVEN® Soft Moisturizer (15 g / 0.5 oz)
• Increases skin's moisture levels immediately and throughout the day
• Helps to improve texture
• Promotes soft, smooth, supple-looking skin