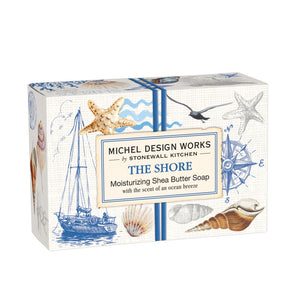 Combine the evocative scents of a day at the beach with classic coastal imagery in shades of ocean blue and The Shore will be a certain hit with folks who love the charm of the coast. Our Boxed Soap Bars contain only the finest ingredients: pure palm oil, glycerin, and rich shea butter. Each bar is triple milled to distribute color and fragrance evenly and to make the soap silky smooth and long lasting. Fits perfectly in our rectangular glass soap dish. Made in England.
Fragrance Notes:
Sparkling ocean water with floral notes and a hint of mandarin
Since 1987, Michel Design Works has been crafting premium products that today range from beautifully scented hand soaps to brightly printed napkins. A stunning blend of fashion and function, each item is decked out with colorful, intricate designs inspired by antique art from the 18th and 19th centuries. Popular as gifts and perfect for everyday use, these offerings bring a touch of attainable luxury to any home.
Made in England
4.5 oz. / 127 g
3.75 x 2.5 x 1.25" / 9.5 x 6.35 x 3.2 cm