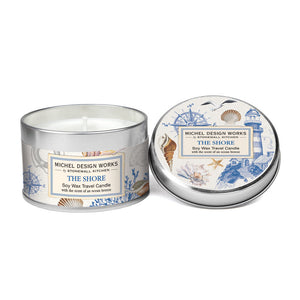 Combine the evocative scents of a day at the beach with classic coastal imagery in shades of ocean blue and The Shore will be a certain hit with folks who love the charm of the coast. Our handy, lightweight Travel Candle moves easily from room to room—and outdoors to a deck or patio, too. Made of 100% soy wax for clean burning.
Fragrance Notes:
Sparkling ocean water with floral notes and a hint of mandarin
Since 1987, Michel Design Works has been crafting premium collections of products that today range from beautifully scented personal care selections to exquisite home accents. A perfect blend of design and function. Popular as gifts and perfect for everyday use, these offerings bring an artistic touch to any home.
Approximately 20-hour burn time
4 oz. / 113 g
Size: 3 x 1.9" / 7.3 x 4.8 cm